Furniture
A selection from Daisy's vast furniture range.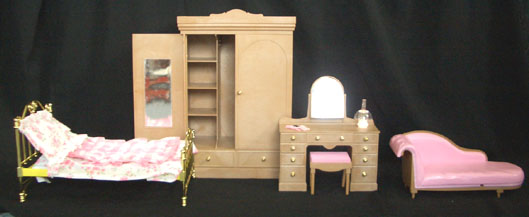 BEDROOM FURNITURE
Victorian-style Bed (Ref. 65501), Wardrobe (Ref. 65502), Dressing Table (Ref. 65503) and Chaise Longue (Ref. 65508).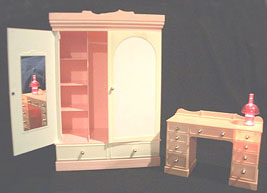 BEDROOM FURNITURE
Wardrobe and Dressing Table in rare Pink/White colour combination.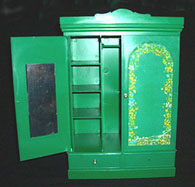 BEDROOM FURNITURE
Wardrobe in Emerald/Kelly Green colour combination (Ref. 66502).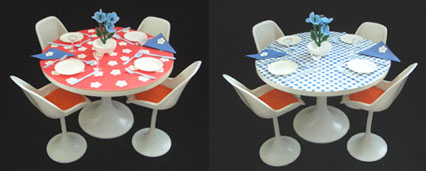 DINING FURNITURE
Dining Table and Chairs (Ref. 65504) with original paper tablecloths in both the red daisy and blue check designs. The set also came out with blue or yellow chairs.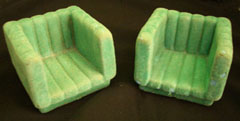 LOUNGE FURNITURE
Daisy's Lounge (Ref. 66519) came complete with 2 x Armchairs with a soft velvet touch, 1 x Coffee Table with transparent top and 'chrome' legs, and 1 x Oriental Carpet.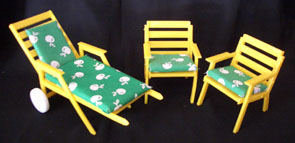 PATIO AND GARDEN FURNITURE
Daisy's Patio Furniture Set was the lounger and a two-seater swing chair. Her Garden Furniture Set was a table with matching umbrella and two single-seater chairs. This pic shows an item from each set.
This combination is yellow with the green, apple-design cushions. The other more popular combination was red or navy blue with white polka dots.