Havoc
Daisy's super agent cousin!
In 1976 Flair Toys issued a special doll using a Daisy mould with differently shaded features such as green eyes (with matching green eye shadow) and short straight hair with a flick curl. She was called "Havoc, Super Agent", and the Dashing Daisy hands were used on this doll to enable her to hold a weapon.
She was deeply tanned with red painted lips and wore a navy blue catsuit with zip front, silver trim and white boots. Her hair was shaded in both auburn and blonde.
Havoc is also 9" tall and has a fully poseable head, twisting waist and bendable arms and legs.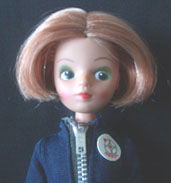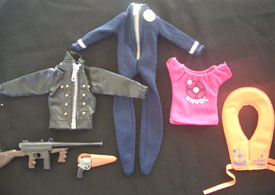 Miscellaneous Items - Blue Catsuit, Jacket, Top, Guns and Life Jacket.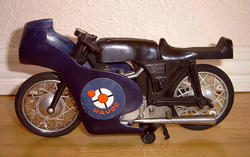 Havoc's Motorbike (missing visor).